:: SPORTS ::
Consultancy Marketing
Chennai Super Kings
Instadia Branding
Century Ply (perimeter boards India-Sri Lanka- New Zealand Series)
Syndication
Kieron Pollard
Sourav Ganguly
Mahendra Singh Dhoni
In-film Branding
Dabur – Sourav Ganguly Documentary. Titled "The Warrior Prince"
Athlete Representation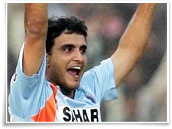 Born: July 8, 1972, Calcutta (now Kolkata), Bengal
Current age: 38 years 162 days
Major teams: India, Asia XI, Bengal, East Zone, Glamorgan, India Under-19s, Kolkata Knight Riders, Lancashire, Marylebone Cricket Club, Northamptonshire
Batting style: Left-hand bat
Bowling style: Right-arm medium
Height: 5 ft 11 in
Education: St Xavier's College
Relation Brother: Snehasish C Ganguly
SOURAV GANGULY – popularly known as ''dada'' Sourav has been a great role model and inspiration over the last decade not only to cricketers but people from different walks of life. From a memorable debut at lords to being Indias most successful captains to one of the most inspirational comebacks in sporting history, Dada has done it all.
The popular saying goes
" On the offside there is GOD and then there is SOURAV "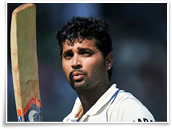 M.Vijay who made his test debut against Australia in November 2008 has today made his own space in Team India. Powered by a scintillating century in IPL 3, Vijay played a key role in making the Chennai Super Kings list the trophy that season.
Vijay proved the faith the selectors have shown in him by hitting his maiden test century against Australia recently.
All in all this young lad from Chennai is here to stay.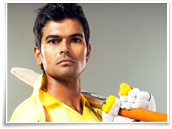 Badrinath has been one of the most consistent performers on the domestic circuit over the past few years and this led to a berth in the Indian test and One day side.
Badrinath has also been a key performer for the Chennai Super Kings in all 3 seasons of the IPL and contributed consistently in all three seasons.
:: Services ::
Athlete Representation
Brand Management
Event Management
Consulatancy & Marketing
Syndication Columns
:: Gallery ::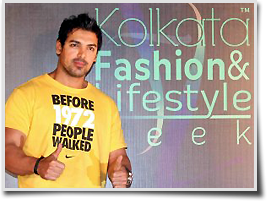 :: What's Next ::
Signature Seven Sensations Fashion Tour Season 2
Syndication Columns for upcoming series and tournaments
National Invitation Snooker Tournament in Kolkata
Promoting Water sports in India
Corporate Golf Tournament
Monthly Fashion Show in Kolkata
:: Follow us on ::