:: Our Services ::
Athlete and Talent Representation:
As agents we represent and procure for our clients all sporting and commercial opportunities. All coordination with regard to their shoots, endorsements and appearances are undertaken by us.
We work towards protecting the interest of our clients to maximize their brand value. Our area of expertise is to manage all off field activities of our clients enabling them to concentrate on what they are best at.
Appearances:
We coordinate appearances of athletes/bollywood celebrities/singers for private and commercial engagements. Our stronghold in the industry allows us to provide a wide range of options for our clients to choose from.
Brand Management:
We act as consultants to our clients assisting them in increasing the brand value of their product through a series of promotional activities in all forms of media.
Consultancy and Marketing:
Having a strong base in the sports, celebrity and fashion industry many corporate houses have chosen to rely on our expertise and we act as their consultants with regard to marketing and promotional activities.
Corporate Events:
We provide all facilities for any corporate event such as Press Conferences, Dealer Meets, Product Launch and Annual General Meetings relying on our expertise, having the sources for the best production for the event.
Event Management:
We ideate, conceptualize and organize events ranging from fashion to sports to corporate events.
Fashion:
We create and/or organize fashion shows, fashion weeks and other fashion related events pan India throughout the year.
In Stadia Branding:
We procure rights to sell advertisement space in the form of perimeter boards, 3-D signage, ground activation and various other innovative forms of branding inside and outside the cricket stadium for any particular series/tournaments.
In Film Branding:
We provide to brands, the opportunity to reach out to the masses, by advertising through the medium of films, short films, documentaries, etc.
Syndication Columns:
Syndication Columns is a unique way of promoting your brand through a series of print media advertisements in the leading publications of India at a nominal cost.
The client here gets their logo (20 cc in size) at an island position in an article written by a sportsperson of great repute. The idea here is to get a leading sportsperson in order for the brands presence to be felt by the reader. By covering all parts of the country in print and the rest in digital media syndication columns are an ideal option for building a brand.
:: Gallery ::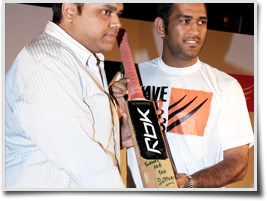 :: What's Next ::
Signature Seven Sensations Fashion Tour Season 2
Syndication Columns for upcoming series and tournaments
National Invitation Snooker Tournament in Kolkata
Promoting Water sports in India
Corporate Golf Tournament
Monthly Fashion Show in Kolkata
:: Follow us on ::